The Importance of Bringing Your Community Together
The world is more connected than ever before – from a digital point of view. The process of building communities – coming together with people across cultures to share goals and ideas – is even more important now. But sometimes those digital barriers are limiting. Sometimes it's just better to get out and share your time with others.
One of the best things you can do as an individual who is part of a thriving and growing town or municipality is to take an active role in your community. And yes – that means putting down your phone, leaving the confines of your beautiful and comfortable home, and getting out there to meet and talk with people.
Community events, activities and gatherings are a great way to connect with others, make new friends, nurture long lasting relationships, and often help other people in your community in a multitude of ways. In the end, you can walk away from a live event with something as simple as a good feeling and a great memory… to something as amazing as a new friendship that can last for years.
The North Hastings Community Integration Association is a proud part of the community that not only inspires people with development disabilities and their families to become active within the community, they work with community partners to help create unforgetable events and activies designed to help you get out, have a great time, and take advantage of everything that all the incredible people in Hastings County have to offer.
Playing Minigolf is Good for You.
Not only is minigolf a wonderful social event, it's a great physical activity that allows you to hone your eye-hand coordination. Dimples Mini Golf at NHCIA not only works with in partnership with Links to Health and ODSP Employment supports to provide competative employment opportunities and experiences to ALL youth in the community – they provide family friendly entertainment for the whole community… along with adding value to local business partner Kawartha Dairy.
Who Doesn't Like a Tasty Treat?
The Muffin Run is the perfect break time food option especially for people in the downtown core who can't leave their office. But that's not all. The Muffin Run also provides paid employment and a chance to learn essential job skills for youth with disabilities. But that's STILL not all! NHCIA's partnership with North Hastings Hospital Auxiliary helps them raise funds too – and that's something that benefits everyone.
Entertainment for the Whole Family
The North Hastings Bell Choir is a popular group of enthusiastic community members providing entertainment at community events and in places like the Centennial Manor long term care home. In 2014, the NHCIA applied for a Horizon's Seniors Grant to purchase bells and hire a choir director. The choir is such a success, NHCIA continues to provide ongoing support for the group allowing the community to come together to enjoy their beautiful music.
Like you, NHCIA is part of an active and growing community that continues to prosper because of people like you who are willing to participate in all the wonderful things this community has to offer. So don't miss an opportunity to get out and enjoy yourself.
---
Office: 2 Alice Street, Bancroft, ON K0L 1C0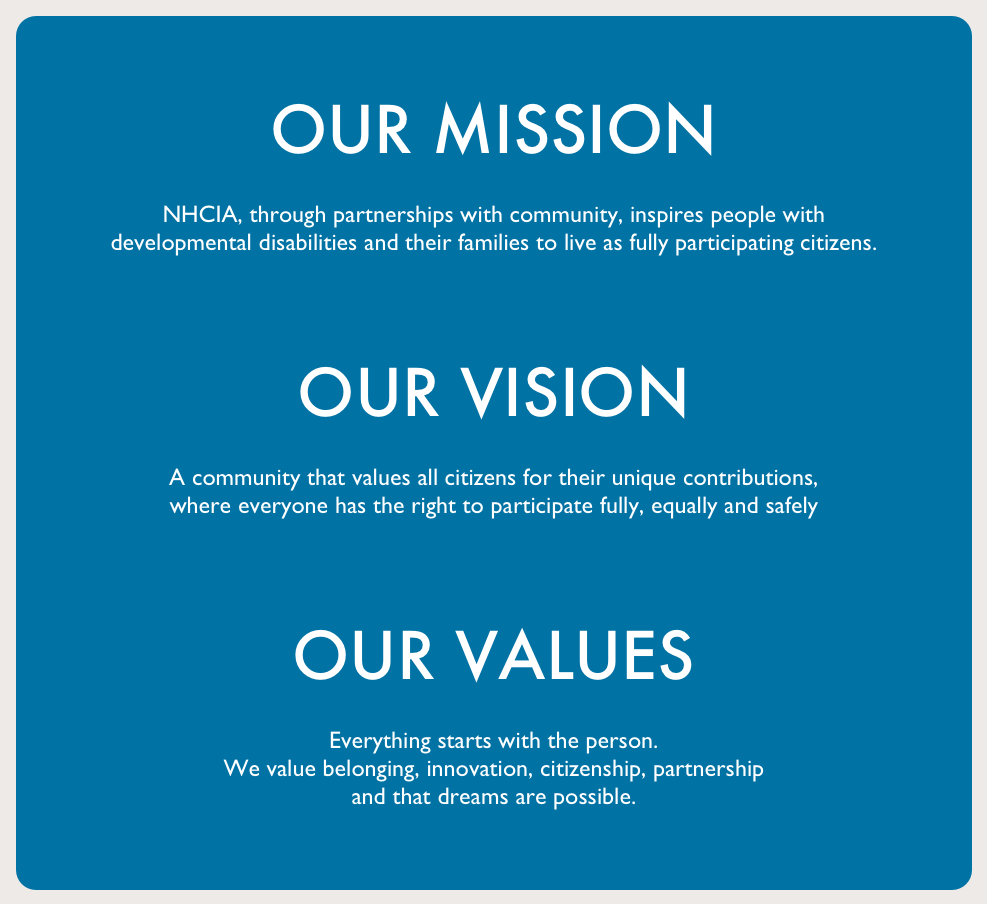 Join NHCIA by purchasing a membership:
Self- Advocate ($5.00) Single ($5.00) Family ($15.00) Business ($25.00)
Receive quarterly newsletters
Consider joining our board of directors
We really like to have fun:
We host an annual community appreciation BBQ
Organize trips and activities that are open to the public; Aquarium, Blue Jays Game, Canada's Wonderland
Integrated PA Day's and March Break activities such as Sleigh Rides, Swimming, Camp Days
Monthly Caregiver Support Groups
AGM's with food and entertainment
---