A new book showcases Algonquin Park in its rarest form.
Michael Runtz, one of Canada's most respected naturalists and Professor of Biology at Carleton University, has released his 12th book called "Algonquin Wild: A Naturalist's Journey Through the Seasons." Runtz says he's been exploring the park regularly since 1972, and this book dives into its rarely seen beauty.
He says one of the rarest pictures in the book is that of a snow flea (pictured below).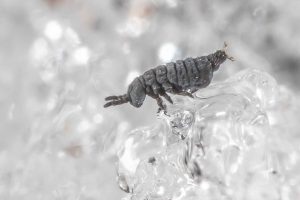 He says he captured the photograph with a special lens after spending hours in the park to try and get the perfect shot. Runtz points out that the snow flea is actually called a springtail, a tiny creature that has rarely been photographed in a wildlife setting. Another one of his favourites is one of three Eastern Wolf pups howling at the same time (pictured above).
When asked about the biggest changes the park has seen over the decades he says that it has to be the construction of Highway 60. He says the highway has made it harder for people to scout at night and has increased roadkill but luckily, it hasn't affected wildlife that much.
When it comes to its history, Runtz points out that the park's topography highlights the region's history. Given that it's at a higher elevation, he says it has a northern flavour to it. It's a little colder and it reflects how the area was before towns were built many decades ago.
You can purchase the book online.
Written by: Devon Jolander