The funding announcement was made by MPP for Hastings-Lennox and Addington Daryl Kramp yesterday.
$1,689,918 is coming from the Ministry of Transportation to go towards the work that is set to be done on Monck Street. "It's greatly needed," Mayor of Bancroft Paul Jenkins says. "It's a heavily travelled route."
The funding from the MTO will cover 90-percent of the work. The Town will have to pitch in another $188,000 to cover the rest of what is needed. Where that money will be coming from has yet to be determined by council.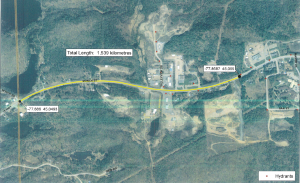 Jenkins says work is slated to begin in the Spring of 2020 on the stretch of road between the entrance to Bancroft at the board of Faraday Township to where Monck Street meets Station Street. That section of road was last worked on over 30 years ago. The Town says they hope to have the work done by September 1st, 2020.
"Details of the rehabilitation of Highway 28 and intersection improvements include surveying of Highway 28, design of the rehabilitation of the existing asphalt, assessment (only) of the water and waste/water infrastructure, and complete grading and drainage reconstruction," the Town says in a statement to My Bancroft Now. "Increasing the size of drainage culverts to accommodate increased spring flooding due to Climate Change will reduce the risk of road closure and failures during spring flooding and minimize unplanned and costly future repairs and reconstruction."
"This is an important provincial investment to re-build a key gateway to the North for thousands of Ontarians," Kramp says. "It is used extensively both by people who live in Bancroft and, critically for the local economy, by year-round tourist traffic."
$72,000 is funding will also be going to Loyalist Township to help with the detailed design for Bath Main Street resurfacing and box culvert replacement. Kramp notes it's the oldest highway in the Province with it dating back to the 1780s.