With 200 elementary school students being moved to North Hastings High School from Bird's Creek Public School, Coe Hill School, Hermon Public School, Maynooth Public School, York River Public Schoo, and other outlying areas, hiccups were expected.
However, Principal of North Hastings High Wayne Stewart says everything has been going smoothly. "We're excited about the change, we're excited about the energy in the building," he says. "We will continue to be consistent with our behaviour expectations for students."
The school board coordinated a "transition evening" with the school to bring in the new elementary students to meet their new teachers and get a tour of the school. Stewart says it's been important for all staff to be open and transparent during the transition and says that will continue throughout the school year.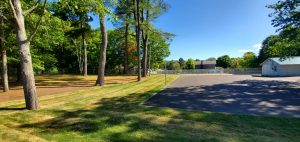 The elementary students are on the 2nd floor of the school. Stewart says work was done leading up September 3rd on refurbishments of the classrooms to make sure they were in good shape for the new students. The school also got a tech upgrade thanks to help from the school board. Multiple "technology carts" have been brought in which each include 30 Chromebrooks for students to work on. A separate outdoor area has been built beside the school for elementary school students.
Stewart says they are also working on ideas to bring students together. Last week the annual grade 9 event was held at the school, which included the new elementary students. Two grade 7 students made it to the finals of the egg toss event, which Stewart says was exciting to see.
The population of school now sits at 609 students. Last year there were just under 450 students. Stewart notes the school can fit just over 1,000 students, so there's still plenty of room for growth.