After the skatepark at Riverside Park was vandalized over the weekend, Bancroft council is looking to install cameras and lighting to prevent that from happening in the future.
The issue was brought up at multiple committee meetings with installing cameras and lighting suggested during Tuesday's Infrastructure and Emergency Services committee meeting. During Wednesday's Community Safety and Well-being meeting, Bancroft OPP Detachment Commander Jeff McKinnon explained that it's difficult to police the skatepark since it's not visible from the road. The idea of motion-sensing lights was brought up to make policing it easier.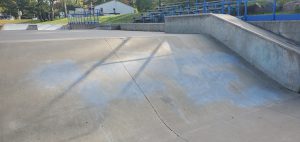 "We're looking at different technology for the cameras," Clerk Lianne Sauter explains. The ones the Town uses are hard-wired and need internet, which isn't viable at the skatepark.
Sauter says they also want to work on educating the public on their continued "cleaning up" of the skate park and encouraging it being used positively. "We haven't had a lot of issues at the park so it's really disheartening that it was vandalized over the weekend," she says.