Last year Vintage on Hastings hoisted an 11-foot tall poppy that was made out of hundreds of smaller poppies above their building on Hastings Street North.
"We're always trying to think about what our soldiers have done for us," says Heather Brough, the Program Coordinator for Hospice North Hastings who own and operate Vintage on Hastings. She adds they always want to try and do something that attracts young people.
After last year's poppy got so much attention, Brough says she and her team were having a tough time figuring out what they could do this year to top it. "One day a box got left at the back of the store and in it was a huge Canadian flag," she says. Brough says everyone was excited because their project for this year's Remembrance Day landed at their feet.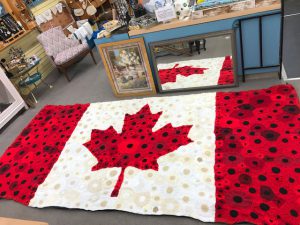 She says they searched online to find out if anyone had done this before and – like with the giant poppy last year – they couldn't find anyone that had previously done or even tried to do this. That's when Brough and her team went to work sewing the red poppies into the Canadian flag and creating white ones to be used as well. She says the process was a lot easier this year since they have an idea of what needs to be done after the work they did last year. "The problem with the big poppy was the logistics of trying to make sure it keeps its shape," Brough explains. That's why seams were made in the flag so rods can be inserted into it to help it stay in place once it's put above their building.
Brough also made sure to thank the town of Bancroft's staff for helping get their project – literally – off the ground again this year.
When looking at the big flag, you will notice a bright red poppy right in the centre of the maple leaf. "That was totally by accident," Brough says. She says one of the volunteers pointed it out and another mentioned how it's the "heart of the maple leaf" and a Town staffer mentioned it as well when it was being put up Tuesday morning.
"This is something we're going to keep," Brough tells My Bancroft Now. Last year, they hoped to give the 11-foot tall poppy to another place or business so it can be displayed year-round, but this time around Town staff made it so it can be winched back up next year. "We are not going to try and outdo this one next year," Brough jokes.