20 affordable housing units will be included in the newly announced community hub to go along with it being the new location for the North Hastings Public Library.
The three-storey building with each floor being around 6,000 square feet and located in the parking lot behind McCaskie TV & Stereo. The bottom floor will be where the library and community hub will be with the two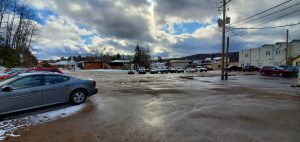 floors above it housing the 20 units. "With the layout that's proposed, we're not going to lose any parking," Mayor of Bancroft Paul Jenkins adds about the estimated 30 to 40 spots available in the lot. He continues pointing out that the community "overwhelmingly" wanted the community hub to be downtown.
Jenkins explains that the bottom floor will be owned by the town of Bancroft, while the top two will be under control of Springdale Developments. They're partnering with the Town to get the work done. Jenkins says he's pleased to have them come aboard to help with the project.
"It's been a long time coming," North Hastings Public Library CEO Kim McMunn says. She's been working on moving the library for the past two decades. McMunn says she's happy to not only be moving to a new location but that the community had a big part in deciding where they would be moving to.
"It has such great walkability, it will help revitalize the downtown," he says, pointing out that the hub will be close to the grounds of the Bancroft Public School where retiree housing is being built.
The next steps are getting Investing in Canada Infrastructure Program funding, which will cover $1.6 million for the project. Jenkins says the Town will be putting forward $450,000, which will be raised with a public fundraising campaign at a later date. He says the Town has already met with MPP for Hastings-Lennox and Addington Daryl Kramp and Jenkins says he is all for the project.
"If we receive the funding in the current stream, by the time we go through the design phase we could be starting in the fall of 2020," Jenkins says.