Work on the first of three retiree housing buildings that are located on the grounds of the Bancroft Public School is underway.
When council approved the work in June, Chad Patrick with Bancroft Real Estate Holding Inc. explained that the first two buildings will have units, while the third will have 42. The third complex will be where the public school currently stands.
At a photo-op Wednesday morning, Patrick tells My Bancroft Now that they are currently working on the foundation of the first building, with plans to wrap up work by the first week of December. He says they are finishing the concrete walls for the basement and will water-proof it before then. Once the deadline hits, they will use insolated tarps and hay to protect the concert over the winter.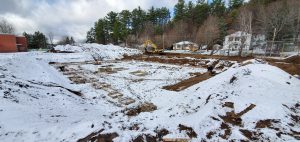 Patrick says they will get back to work in March to start framing the building above the foundation. "We're aiming for the end of next year, sometime between Thanksgiving and before Christmas," he says about when they expect to be finished. "We'll see how smoothly things start-up in the spring and how nice the end of winter is to us."
"Everybody knows there's a housing shortage in the area," Mayor of Bancroft Paul Jenkins says. "We also have a lot of people who want to move out of their homes into a place like this, so there will be a domino effect."
Patrick says he's already had 49 calls from people interested in renting an apartment. He says an open house will be held in early December to give more detail on their plans.
Once work on the first complex is done, they will begin work on the second building on the west end of the lot, along with tearing down the school. "Next fall,  same thing, get the foundation in the ground for the next 30 unit building," Patrick says in regards to the timeframe for building two.
Rent for the apartments will range from $1,300 to $1,700 depending on where the apartment is located. Patrick says water and heating is included in the rent.
When first requesting to do the work, Patrick said he would be hiring locally. So far, the excavation has been done by a local contractor and the aggregate and gravel are locally sourced. "One of our main guys running the site moved to the area," Patrick adds. He says two more employees are coming in a couple of weeks and they are currently on the look-out for carpenters. Patrick says half of the workers have been local.
"We want to do more projects here so we can to build a Bancroft team here," Patrick says. He adds they plan to start on another 100 unit complex once work on this one is complete.