Local climate activist Brynn Kilpatrick went from hosting Bancroft's climate strike in front of the municipal office to speaking in front of hundreds on Parliament Hill.
"It was a special moment," the 10-year-old says of last Friday's impromptu speech. She travelled to Ottawa with her parents to take part in the strike, but Kilpatrick says she didn't plan on speaking. The microphone was opened up to anyone who wanted to say something, and she says she jumped at the chance to talk. "I'm surprised I even had the guts to do it," she adds.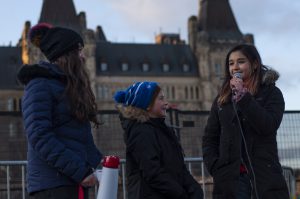 During the event, she met up with the organizers of it, Violetta and Mitzy, both 13 years old. Kilpatrick says it was great getting a chance to meet with them and talk about something the three of them are so passionate about. She says they even hung out at Mitzy's parent's bread shop after the strike wrapped up.
Just under 100 people showed up the strike, which is more than who usually show up to the strike that's held in Bancroft every Friday morning. Kilpatrick also plans on heading back to the capital on the 29th where it's expected 10 to 16,000 people will be attending. "I'll be a little more nervous," Kilpatrick says on how she will feel if she gets the chance to speak during that rally. She says that if she does get up, she won't have a planned speech. She already knows what points she wants to touch on and she'll go off of that, Kilpatrick explains.
You can watch Kilpatrick's speech on Facebook.