It took eight years, but "Crazy" Leo Urlichich can now call himself a two-time Rally of the Tall Pines champion.
What makes the win even more impressive is the fact that the decision to name his girlfriend as his co-driver was done only two weeks before the rally.
"I expected to be lost in the first few corners, but I think I did pretty good," Tatiana Nikolaeva tells My Bancroft Now after Saturday night's podium celebration. She adds that Urlichich called the Rally of the Tall Pines the most challenging course in North America and she smiles while saying she agrees.
Urlichich says while riding with Nikolaeva was fun, it's not going to be a consistent thing. "To have a proper pace, I need a co-driver with a minimum of 300 sometimes up to 700 rallys," he says. He doesn't say but hints that more rallys with his girlfriend are possible as she continues to train to be a co-driver. He points to world champion rally racer Sébastien Loeb who has his wife co-drive for him at some events and often wins.
Urlichich and Nikolaeva finished with a time of 2:00:48.1, besting David Berube and co-driver Marilou LeBlanc by 8 seconds and Philippe Benoit and Eric Dube by 13 minutes and 9 seconds. The 3rd place team were also the top team in the two-wheel-drive class, drawing praise from many competitors – Urlichich included – for being able to stay with the production and open class four-wheel-drive cars that usually dominate rally events.
"I want to emphasize that you do not need to spend a lot of money on a $200,000 fire-breathing monster," Urlichich says, praising the Benoit and Dube for their great driving on Saturday.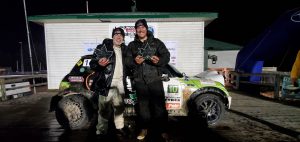 "We worked so hard all year to get to this point," Philippe Benoit says after spraying champagne to celebrate his win in the 2WD open class. He also wrapped up the Canadian Rally Championship's 2WD class driver category.
This was the first time Eric Dube co-drove for Benoit. He usually co-drives with Mathieu LeBlanc, but he had a chance to wrap up the CRC's 2WD class' co-driver category so he teamed up with Benoit for the weekend after LeBlanc and Benoit got together and worked out a deal. "It worked well," Dube says of the pairing.
Both drivers were complimentary of the course with Benoit pointing out how this is his favourite rally course to run. Benoit says he enjoys the fact that the rally is done during one day. He says it wears on you mentally, but that just adds to the challenge. Dube said the course is tough because of its length, but compliments the roads, calling them the "best."
Benoit and Dube also won the Ontario Performance Rally Championship's and the Eastern Canadian Rally Championship's 2WD category at the rally.
You can see the full results from the 2019 Rally of the Tall Pines online.