$3,378.35 was raised during the event that featured a cast of eight on-stage in Emond Hall as the audience tried to figure out which one of them was the mysterious killer.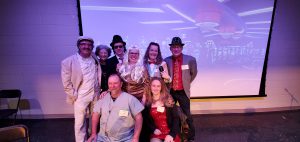 Cookie Daniels played by Tracey Peters ended up being the killer. Other cast members included Tony Fitzgerlad as Dr. Julius Prescott, Elizabeth Graham as "Granny" Clara Smith, Paul Coleman as "Lucky" Nick Lucopoulos, Anna Graham as Brigitte Damien, Shauna Rumleski as Katie Morgan, Andy Morrison as Joey Zinger, and Paddie Fitzgerlad as Tony Benello.
Library CEO Rod Moffitt said before the show got underway that the money will be split between buying new shelving for the library and their student bursary program. Part of the proceeds will also go to CARE North Hastings and the Maynooth Foodbank.
The hope is that the bursary fund can be bumped up from $100 per student, but Moffitt tells My Bancroft Now that is a board decision that will be made at a later meeting. "I know the board hopes to bump it up as well," he says.
So far seven students have applied to the bursary, but any other interested students can find an application at the guidance office at North Hastings High School. Students interested in applying have to be accepted into a college, university or starting an apprenticeship. They will also have to be a resident of Hastings Highlands.