The Auxiliary aimed to raise $40,000 this year for the purchase of a CBC Blood Analyzer and a Level 1 Fluid Warmer/Rapid Infuser for the North Hastings Hospital. They did, and a little extra.
Past President Michael Brooks tells My Bancroft Now they raised $50,000 this year, including $1,700 from their "Festival of Trees."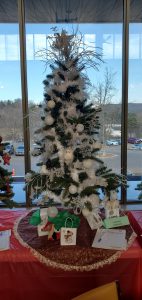 "We had met our goal, but we're definitely looking towards the future," he says. The extra $10,000 will be used to buy an OB/GYN Stretcher for the Hospital. The one currently at the Hospital needs replacing.
For the Festival of Trees, Brooks gives a shoutout to Rose Goodwin and Jeanette Howsen who worked tirelessly to set-up this year's Festival. He also thanks the eight businesses that decorated trees donated by Home Hardware. Brooks says that Razer's Edge's tree was voted by those that attended the wine and cheese party as the best-decorated tree.
"Usually in early March the Hospital comes to us with their wishlist," Brooks explains when asked what's next. He adds that on top of the "main events" like the Moose FM Radiothon, the Auxiliary will be looking for new fundraising ideas next year. "We like to shake things up," he says.