"I couldn't believe how many people made it," Organizer Joey Shulman says of the fundraiser held over the weekend.
A snowstorm hit the area Saturday afternoon and continued into the evening and Shulman jokes that "despite the weather" $745 was raised for the Maynooth Foodbank. He says that 50 people paid for a ticket, but weren't able to make it because of the poor weather.
"I've heard back from people saying the evening was magical and it was something they would remember for quite some time," Shulman says of the reaction to the locally shot film. A red carpet and photo booth was set-up in Emond Hall for the premiere that Shulman says was done to give it a Hollywood vibe. Despite all of that, Shulman says it was the simplest of things that made the night special – popcorn. "It instantly evokes the memory of a theatre," he says.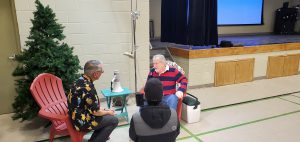 Shulman says, by his count, there are over 50 locals – including himself – in the movie. "When you know someone up there it does make it a bit of a different experience," Shulman says. He plays bartender "Reg" in the movie and has a speaking role, but other locals like Dorris Hollingsworth and Bancroft Councillor Valerie Miles were used as extras. "It was like playing 'Where's Waldo,'" Shulman jokes.
Since there were so many that weren't able to make the matinee screening – including co-writer and director Matthew Campanile – Shulman says he's already got the ball rolling on a second screening that he hopes to have in April. He's put in a request to Hastings Highlands council to partner again with the Maynooth and Hastings Highlands Business Association for the screening.