The local chapter of the Canada-wide initiative now sits at 103 members after their second meeting.
85 people came to the meeting to listen to The Linus Project, the Bancroft Pregnancy Care Centre, and Maggie's Resource Centre were the three charities that pitch what they want to do with the donated money.
After the pitches, the attendees voted on who they want to donate their $100 cheques to and Maggie's was decided as the winner. Director of Maggie's Tanya MacKinnon explained during her pitch that their budget hasn't been increased in "years." She says they work with hundreds of women a year who are involved in abusive relationships that, in some cases, have been going on for decades. "You never know what's going on behind closed doors," MacKinnon said during her pitch. She explained their office is open from 9 AM until 5 PM, but one staff member brings home a pager at night in case of an emergency.
MacKinnon explains the not-for-profit offers programs like crisis intervention, safety planning, transitional housing support, counselling, safe placement and transportation for women and their children leaving an abusive relationship, advocacy and referrals to health, legal and income support resource centres.
$6,500 will be going to Maggie's after each member that attended pledged to donate $100 individually or as a group. MacKinnon said they will use the money to go towards buying "safety enhancements" they use to help women feel safe when they return home.
The Linus Project works in Peterborough and Hastings Counties. Local Coordinator Lori Padgett explained they create blankets to be given to mostly children, but also adults, who are going through a crisis. In three years of operation, they have gotten $200 in donations to help with materials, which is why they were hoping to chosen as the night's winner to be able to buy more materials for their blankets.
Executive Director of the Pregnancy Care Centre Jennifer Foster explained they offer free "hope, help and support" to women and men before, during, and after pregnancy. They rely on donor funding since they do not get any from the government. They hoped to use the money to help with the programs they run, such as the Grandmother's Heart program where they have two grandmothers conduct up to six in-home visits to help a new family with house chores.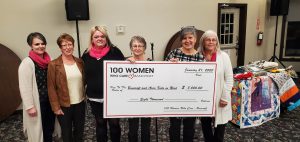 Also at this meeting, a ceremonial cheque was handed over to Bancroft and Area Kids in Need representing the $8,000 they were awarded at the first meeting in September 2019. $7,500 came in during the meeting, but $500 was donated afterwards but people who weren't able to make it out.
Donna Ireland with KIN explained how they used the money with their winter clothing and Christmas presents programs. She says they supported over 200 children with their winter clothing program and another 200 with their toy drive.
The charities that will present at the next meeting on May 19th at the Bancroft Ridge Golf Course. Home Again Bancroft, North Hastings Community Cupboard and the Children's Foundation will step-up up to the podium during the third meeting.
You can stay up-to-date with 100+ Who Care in the Bancroft Region by liking their Facebook page.