The name McGibbon is familiar to many in Bancroft because of Barry and Tracy who sit on Bancroft council, but their son Alex is quickly making a name for himself on the racing track.
"I've always had a thing for motorsports," he tells the MyBancroftNow.com newsroom. He says for a while his dream was to make a rally car and qualify for the Rally of the Tall Pines, but that endeavour ended up being too expensive. It was then he decided to travel to the Peterborough Speedway and after watching a few races he bought a car, enlisted the help of his dad, and they got to work building a racing machine.
Like any parent would, McGibbon says his dad wanted to make sure he was committed to racing before agreeing to help. "I did a few races and I loved and I knew it wasn't something I was going to give up on," he says.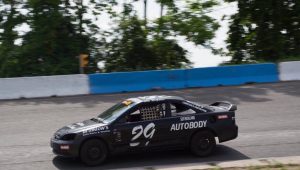 McGibbon started racing full-time soon after at the Peterborough Speedway. At the end of his first season in 2018, he was named Rookie of the Year in the Speedway's Battlefield Equipment Rental Bone Stock field before moving up to the Trent Lakes Complete Plumbing Renegade Truck series. The jump from car to truck didn't phase him as he was named the Most Improved Driver. "It's a pretty big accomplishment," he says, before quickly shifting to praising the work his dad and pit crew do to help him achieve that success. "He always knows how to fix it and what to adjust," McGibbon says of his dad.
Along with his dad Barry, Sam Burnett and Justin Bierworth are the others who make up McGibbon's pit crew. He also proudly displays the names of local businesses: Watts & Sutherland Auto Body, Dillabough Millwright & Welding, Gaebel Insurance, Rainbow Auto Glass, Freymond Lumber, True North Game Calls, and Aspen Grove Outdoor.
Of course, racing isn't cheap so McGibbon has to balance working on his car and making sure he's ready to work at an auto-body shop in Town. "I just have to make time for it," he says. McGibbon says he mostly works on the car once he gets off work. He adds that it takes up a lot of time because he's going over almost "every nut and bolt" to make sure he's ready for the weekend.
This year will be McGibbon's third season at the Speedway and he'll be behind the wheel of a car and a truck. "Sometimes they race back-to-back so I'll have to jump out of one and into the other one," he says of the races. The new season starts Saturday, May 16th and runs every Saturday until the last weekend of August. McGibbon says he'll run the car every weekend, and the truck every second weekend.
Right now, he races solely at the Speedway, but McGibbon hopes to continue climbing and get to a higher class so he can travel to different tracks.
You can follow along with McGibbon this season by liking his team's Facebook page.