Dixie Lee Fried Chicken started the "Hot Meals For Heroes Drive" and their Bancroft restaurant is taking part.
Dixie Lee's head office thought of the idea to donate free meals to essential service workers during the COVID-19 pandemic. Owner of the Bancroft resturant Dilip Patel says the fast-food joint has been following suit and donating "hero meals" to staff at the North Hastings Hospital as a way to thank them for their hard work. He explains that after one of the workers there posted a picture of the meal to Facebook, he began getting calls from people wanting to donate so more meals can be given out.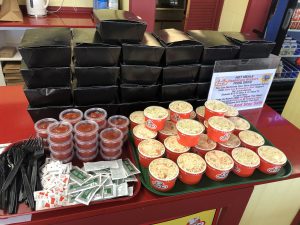 So far, 55 meals have been donated to staff at the Hospital. Scotiabank has also received meals since they're currently the only bank open in Bancroft.
"I'm in the restaurant business, so the best thing for me to do is to serve food," Patel tells the MyBancroftNow.com newsroom.
While the "hero meals" are $10, Patel says you can donate whatever you're able to. "Yesterday someone called in and donated $100," he says. Patel says he just wants to cover as many people as possible.
He's also encouraging other restaurants in the area to donate free meals to essential service workers. "I'm trying to cover what I can," Patel says. "If every restaurant does the same, we can cover more."
Patel says the hard work of the people at the Hospital and the other essential service workers is not going unnoticed. He says he appreciated all the work being done in the community and throughout Canada. "There are many people who care about you," Patel says.
If you want to donate towards a "hero meal" you can call Dixie Lee at 613-703-7178.