Red Eagle campers Kim Brookes and John Vanderlinde have donated 100 personal protective equipment face shields to Wollaston Township.
The two are living at their home in Whitby, but want to make a difference for the place where their second home is located.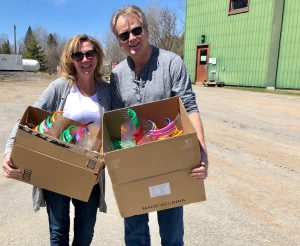 A statement from the Township says that Vanderlinde is a "3D printing enthusiast" and has been working to make face shields for frontline workers since the COVID-19 pandemic began. He made three different designs and worked with the Bowmanville Hospital to figure out which one is best before continuing to craft more.
There is now a "small army" of volunteers who are helping Vanderlinde make the face shields. After starting out by making 10 a day, he now has 37 additional 3D printers and is pumping out 185 face shields a day.
"Vanderlinde and Brookes launched an online fundraiser that was immediately successful thanks to an outpouring of support from fellow Red Eagle Campers," the statement continues. "Armed with 100 newly produced shields, the Red Eagle campers made the trip to Coe Hill on Saturday to safely drop their donation."
50 of the face shields will go to Wollaston Township's volunteer firefighters while the rest will go to the Hastings Centennial Manor in Bancroft. "This is our way of giving back," Vanderlinde said. "We're just doing our part."
"I'm always touched by how the camping community stays connected even when the Parks are closed," Reeve Barb Shaw said. "This was such a heartfelt donation and a really beautiful way to show support for our local long term care frontline workers and our amazing fire volunteers. I am grateful."
Vanderlinde says he will continue to 3D print face shields throughout the pandemic from his home in Whitby.