Bancroft OPP is looking for a suspect in relation to a credit card fraud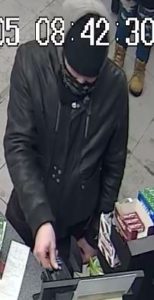 .
The card had been reported stolen to police had been used several times at businesses on Hastings Street North on February 5th. Investigators have identified a person of interest: a male wearing a dark coat and dark hat. Police want to interview the person in question.
If you have information, OPP would like you to call them at 1-888-310-1122.