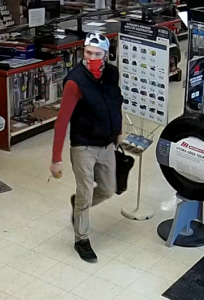 Bancroft OPP are asking the public's help in identifying a person of interest in relation to a theft.
Police were called to a business on Hastings Street North last Tuesday around 2 PM, and a person of interest was captured on Camera. The person is male, with a red shirt, dark vest, red bandana and a ball cap, who left in a dark coloured car.
Anyone with information is asked to contact Bancroft OPP at 1-888-310-1122.