They are persistent, they are destructive and they're here to stay for now.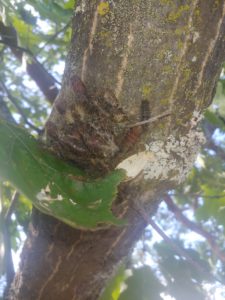 The Ministry of Natural Resources and Forestry (MNRF) says 2020 was a bumper year for gypsy moths, with major pockets in Eastern Ontario. The Ministry's Forest Health Coordinator Dan Rowlinson says much of the defoliation, where moth larvae strip the trees bare of leaves, has occurred in the areas around Hastings Highlands, North Frontenac and Leeds-Grenville Counties, with pockets appearing in Renfrew County as well. In all, the pest has caused over 600,000 hectares of defoliation in 2020, from Southern Ontario to as far north as Sudbury.
Rowlinson says while gypsy moths can strip a tree bare in a matter of weeks, the moths themselves are not as dangerous to the tree as what comes afterwards. Most hardwoods sprout a second crop of leaves in response to losing the first. But if the outbreak remains consistent, trees will then become prey to other viruses that could kill them. Since the 1960's when the invasive species came to Ontario, they have continued to defoliate hundreds of thousands of hectares of forests.
However, if you suspect an infection, Rowlinson says there are ways to get rid of them. The best way is to remove egg masses in the spring before the larvae have time to hatch. The larvae, or caterpillar stage, is what does the most destruction to a tree, as they are the ones that eat the leaves over a period of 3 to 4 weeks. However, these larvae do not like sunlight and tend to scurry away into holes during the daytime. Rowlinson suggests tying a band of burlap around your trees, which will give the larvae a place to hide. A property owner will then only have to remove the burlap and destroy the larvae clinging to it. However, he also urges caution, as direct contact with the hairs on their bodies could cause allergic reactions.
Eventually, gypsy moths will become less of a problem for Eastern Ontario. The MNRF is currently tracking a number of viruses and fungi that could cause a population collapse. If you have seen gypsy moth larvae hanging dead from a tree in a downwards "V" shape, Rowlinson says chances are they have died from that disease. However while the population could be on its way to collapse, Rowlinson warns that many acres of forest will be picked clean by the gypsy moths before that happens.