Although she didn't expect much from entering the Greatest Baker Contest, Tracy McGibbon has a chance of going far against professional bakers.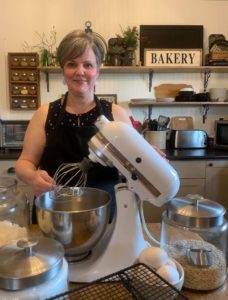 The manager at Wattle and Daub Cafe decided to enter the contest after some positive feedback from the community. Initially, she felt like she was too busy to put in the time to get people to vote for her in the contest. But when she was notified that votes were already coming in despite her not doing anything, she began to update her profile and encourage people to vote.
McGibbon was one of 8,000 people selected and was randomly placed in a group of 32, one of 252. Within a day and a half, she was at the top of her group. As the number of contestants was cut to 15, and now to 10, McGibbon still remains at the top of her group as of the writing of this article. The top five will be selected on June 3rd before group winners are announced on the 10th. Voting will then continue until a winner is selected on July 1st.
McGibbon is excited to have made it so far already. She taught herself to make cakes through reading and YouTube videos. While she started out young, her time at Wattle and Daub allowed her to improve her craft, and the pandemic allowed her to focus on her creations. However, she says despite being able to make the cakes, she would not have gotten so far without the support of the community who voted for her. Their support allows her to compete against professional, international bakers.
The Greatest Baker is hosted by two contestants of the Great British Bakeoff TV show. As well as voting for free, people can buy votes, where 100% of the proceeds will go to the No Kid Hungry Campaign. Last year the contest donated $368 million dollars in their push to end child hunger in America. The top prize for winning the contest is $20,000.