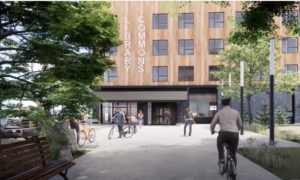 The new North Hastings Public Library will be more than just a place for books.
In a special meeting this week, Bancroft Town Council finally saw what will be built on the Cleak Avenue Property. Malcolm Hunt, Community Development Advisor, said the goal was to create a space with affordable housing and public space both inside and out.
These will include 30 new rental units, the majority to be affordable housing priced to 80 percent of the market rate. This is possible due to a Federal co-investment program. 10 of the 30 units will also be fully accessible. The housing components will be built by Springale Developments.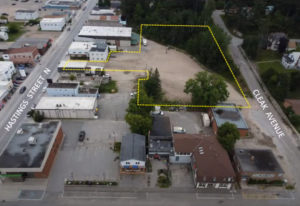 The biggest change people would see would be the promenade, a green space that would serve as the entrance to the library. A park area complete with trees and public seating would connect the Library with Hastings Street North. There will be an outdoor study patio, and parking for both residents and library users.
The Library interior will include a learning commons, which is a community room that can be used as a large study space. But it can also be converted to a theatre-style room, complete with a kitchenette. In addition to the large space, small, quiet study rooms will also be included.
The design has yet to be approved by council and public consultation is ongoing.