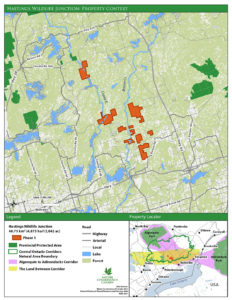 A huge chunk of land in the region has been given to a major conservation group.
Around 12,000 acres of land near Bancroft has been donated to the Nature Conservancy of Canada (NCC), a not-for-profit that will aim to protect this land. Dubbed the Hastings Wildlife Junction, this area contains a massive amount of biodiversity, according to the NCC. As well as serving as a source of clean water, the NCC also predicts the land stores over 4.5 million tons of carbon. The land was donated by Ben Samann, founder of Land'escapes.
Kristyn Ferguson, Program Director at the NCC, says this is the first time they have been working in this area as initially, there weren't many threats to biodiversity. But with increased development a growing risk to the wildlife, Ferguson felt they should acquire the property, and take advantage of a rare opportunity to acquire unspoiled land in southern Ontario.
When NCC takes over a property, Ferguson says it will look similar to how it does now, albeit with signage and some minor forest restoration. The land will be open to the public for low-impact activities such as hiking, bird watching and cross country skiing. As well as the recreational and ecological benefits, Ferguson thinks that having a large, unspoiled area of land near their homes will bring joy to residents.
Fundraising to finish the project will continue until Spring 2022 in order to pay fees associated with the land acquisition.