What went up must come down.  That's the findings of the Canadian Residential Real Estate Outlook report from Desjardins Economic Studies.
Randall Bartlett, Senior Director of Canadian Economics, and Hélène Bégin, Senior Economist with Desjardins says the already hot Canadian real estate market was supercharged by pandemic lockdowns as people were forced to work from home and then moved out of urban centres.
That pushed home prices in smaller centres surrounding the Greater Toronto Hamilton Area (GTHA) to record highs. But prices have been sliding consistently, by 2.6 per cent in March and 3.8 per cent in April.  Home sales have also dropped during the same months by nearly 18 per cent since February.
"While two months of data don't make a trend, we believe they do suggest that the Canadian housing market has reached an inflection point."
Bancroft, according to Desjardins, saw the highest gain in home prices reaching 185 per cent above December 2019 peak levels.
The authors of the report predict that as interest rates rise and borrowing becomes more expensive it will weigh on the housing market as households "batten down the hatches for the impending storm."  In the report, the authors stress, "But to be clear, we're of the view that while there will be a correction in the Canadian housing market, there won't be a collapse."
The economists from Desjardins expect the housing market correction in Ontario to be led by smaller communities outside of major urban centres, especially in markets that saw the biggest price increases during the pandemic, "That means communities within a few hours' drive of Toronto are likely to see sales activity and prices cool the fastest as borrowing costs rise and commuting becomes more common."
Bancroft tops the list of communities that could see the largest price drop followed by Chatham-Kent and Windsor-Essex in the next year and a half.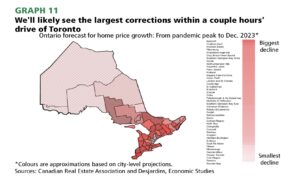 Bartlett and Bégin say proposed legislation to end blind bidding and other practices that are believed to be the leading causes of home price spikes may bring home prices down, "But again, we don't anticipate average home prices in any of these regions to fall below their pre-COVID starting points due by and large to high levels of international migration and ongoing hybrid work arrangements."