97.7 Moose FM's "We're All Heart Radiothon" from 2021 has earned the radio station the Community Service Award from the Ontario Association of Broadcasters.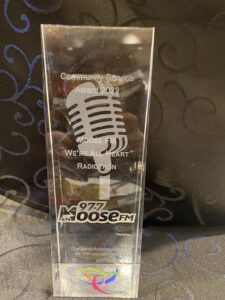 For 15 years, 97.7 Moose FM Bancroft has hosted the event to raise funds for the North Hastings Hospital.
In 2021, the radiothon broke a record with more than $41,000 raised in just 10 hours. It's critical money for a community that has only about 3,900 residents but services tens of thousands in peak cottage season. 
Joël Lamoureux, Regional Cluster Program Director and host, stated, "the healthcare workers are literally the life-blood that keeps the heart of our community healthy and it was an honour to use traditional radio as the medium to engage donors.
"At the height of the pandemic, the Moose FM radiothon was able to raise funds from our community and cottage visitors and against all odds, broke an all-time radiothon fundraising record in our 15 years of doing this event."  
Moose FM would like to thank the volunteers at the North Hastings and District Hospital Auxiliary and our amazing health care workers for making the radiothon possible.
Lamoureux adds, "in a world of audio streams constantly clamoring for our attention, radio always has been and will continue to be the medium that cuts through the noise for our local communities because that's what local radio does best. We're local and proud of it."