UPDATE: Wednesday, Nov. 9, 11 a.m.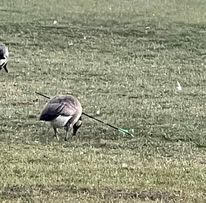 Earlier this week, we told you about the hunt for a Canadian goose with an arrow through its body.
The goose has returned to its original location, by water, in Barry's Bay. Anna Latham-Walker of Tall Pines Wildlife Rescue has connected with a waterfowl expert and the two are making a plan to rescue it by Friday.
Latham-Walker says volunteers aren't needed, but she's grateful for community support. She received calls from dozens of caring people and that helped re-locate the goose. 
Tuesday, Nov. 8, 9 a.m. 
The hunt is on for a special Canadian Goose in the region … not to kill it, but to save it. 
A goose with an arrow through its body was spotted by water in Barry's Bay recently.
Staff and volunteers from Tall Pines Wildlife Care Centre, south of Bancroft, were prepared to come to its rescue late last week – but its flock took off.
The Centre's owner, Anna Latham-Walker, believes it flew southwest, so it could be in the Apsley or Peterborough areas.
She's asking that if someone sees it they call the Centre at 613-334-7341 and her team will make a plan to treat it.
Latham-Walker doesn't know how the arrow got into the bird, but says it's shown remarkable ability to live and should be given a chance to survive.
It's living with the arrow going, literally, through its abdomen and about five inches of the arrow is sticking out on both its left and right sides.
If volunteers can find it and coral it, they plan on cutting off the ends that are sticking out and sending it to Sandy Pines Wildlife Centre in Napanee, where the arrow can hopefully be fully removed.