Those in the agriculture industry hope a new grant program will lead to a healthy supply of new veterinarians to work in rural areas.  
The province recently announced the Ontario Veterinary Incentive Program. It will provide up to $50,000 to new vets who can set up clinics to treat farm animals.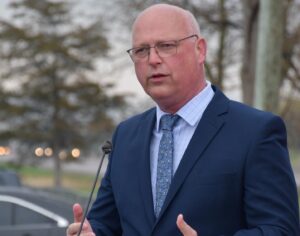 Hastings-Lennox & Addington MPP Ric Bresee says, in preparing the program, the province identified 10 underserved areas, and several communities in his riding were mentioned. He wasn't surprised, though, because he's been hearing about a shortage of vets, from area farmers, for some time. 
"Of the 10 places that they mentioned, Addington-Highlands, Carlow-Mayo, Limerick and Wollaston are specifically mentioned," he says. "So, four out of 10 are right in our backyard. We are definitely in an underserviced area, and we need that support." 
The province hopes to dish out the grants over five years. The plan is to add 100 veterinarians to Ontario's workforce. 
Haliburton County-area farmer Godfrey Tyler says he was pleased to hear about the grant program but is also skeptical of whether it will solve the shortage. 
A member of Beef Farmers of Ontario, he has followed the vet shortage issue for years.  
He says many farmers in Haliburton County and North Hastings pay vets from cities to travel to their farms, which makes the costs of maintaining livestock, too often, unreasonable.  
He says the grant program is a good step but says the government must do more to encourage new vets to receive livestock training.  
"It's a step in the right direction, but it might be on a hanging staircase that isn't supported at either end," he says. "(Does the government) have a vision of where it can go and is it enough dollars?" 
Bresee says the grant program isn't the only thing the government is doing. He says there's also a plan to add more spots for students in veterinary schools.