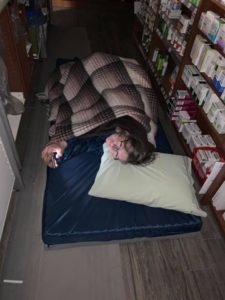 Due to last night's power outages, it was a long night for North hastings Family Pharmacy
Nancy Van Bakel-Wiechenthal says the pharmacy had to run their generator all night to help keep their medical supplies from going bad. Insulin, shingles vaccines and flu shots must be kept below freezing at all times, as dictated by HPE Public Health. After last night's massive power outages, the owners got a call from their security team that the power was out. Bakel-Wiechenthal says they do not live too far away from the pharmacy and were able to be there in 15 minutes. Both Nancy and Norval Weichenthal had to sleep at the pharmacy all night in order to keep their medical supplies from expiring.
However after a long night of taking care of the generator, the pharmacy never once had the temperature rise above the limit. Power came on for them around 6 AM.