Dianne Eastman is the one that headed up the work along with an online illustrator that as brought on for the designing phase of the project.
Hastings Highlands council along with other members of the community were on-hand Wednesday for the raising of the Maynooth banners. Others banners will be going up for Baptiste, Bird's Creek, Lake St. Peter, Maple Leaf, and Purdy. "They are incredible designs," says Mayor of Hastings Highlands Vic Bodnar. He says the idea came about to make the new banners because the previous ones were fading and falling apart. He says the plan was to reinvent those old ones to create something new and special.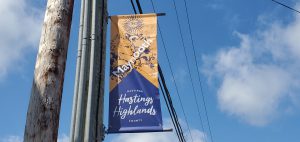 Eastman says she was tasked with making each banner unique. "Each community has a different colour background and they each have a little story doing on the background," she says. Eastman adds that the illustrator was hired did a great job at making the background stories fun.
Hidden inside each banner is an animal. Eastman says it was designed like that so kids have a game to play as they go around Hastings Highlands. A rabbit, owl, duck, turtle, bass fish and a grouse are hidden in the banners.
"We want people to recognize that we are a municipality that is made up of historical communities that have all come together as one unit," Bodnar says. "But we want to recognize the heritage from whence we came."