A local man's plan to bring a Canadian Peace Museum to Bancroft fits nicely with some broader town projects. 
That from Mayor Paul Jenkins, following a recent decision to support the museum. 
At a committee-of-the-whole meeting, councillors approved studying whether a parking lot off Station Street would be a good place for the museum.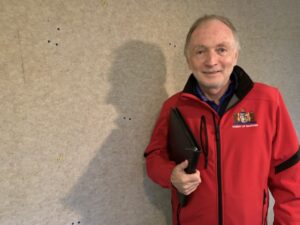 Jenkins says the town is about to do a site review to explore how to better utilize the town-owned lot, which is next to the Bancroft North Hastings Heritage Museum.  
He also says the plans for the museum, brought forth by Chris Houston, fit with Bancroft's vision to add more tourist attractions and accommodations downtown. 
"I think it will all be positive," Jenkins says. "There are other things we're working on at the present time, as well, including a hotel project. The (museum) would draw a lot of people. This is part and parcel of a bigger, overall plan." 
The recent vote also means council will consider putting money towards the Peace Museum when the Town does its 2024 budget. 
Houston, who hopes to open a museum in 2025, says he was "delighted" to get the support.